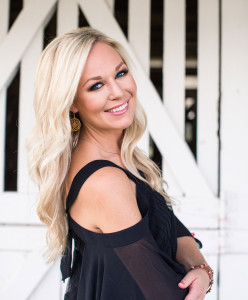 Rising Canadian country artist, Alecia Aichelle, captivates her audiences with her angelic vocals, alluring piano accompaniment, and relatable lyrics. Informed she would never sing again after complications with throat surgery, Alecia illustrated true resilience and fought all odds for a miraculous recovery. Her perseverance, combined with an intense love for music, is what fuels Alecia's passion as an artist.
Alecia had a busy summer 2017 performing many shows with her band throughout Alberta, Canada including rodeo cabarets, events for the City of Red Deer and Lacombe, and two dates at Westerner Days Red Deer on the Bud Barn Beer Gardens stage.
After releasing three singles to radio off her debut full-length album, Golden, Alecia has been busy songwriting, and recorded new music in Nashville this fall. Get Gone, Alecia's 4th single to radio, is fun and feisty with the perfect combination of both class and sass. Written solely by Alecia, Get Gone packs a punch with its dynamic lyrics and upbeat tempo. Get Gone hit radio airwaves on November 1, 2017 and iTunes on November 10, 2017.
Earlier in 2017, Alecia kicked off the year with the release of her single, What It Wasn't, to Canadian Country Radio. What It Wasn't, off her debut album Golden, begins with a sense of heartbreak but kicks in at the chorus with a gritty realization of the truth. Co-written and produced in Nashville, What It Wasn't comes from a very real and honest place for Alecia, which is both evident and relatable to the listener. Alecia released two singles to Canadian Country Radio in 2016, Without June, a Nashville co-write, and Country Life, which was written solely by Alecia.
Alecia's debut album Golden, released spring of 2016, was nominated for Album of the Year at the 2016 ACMA's. This album contains co-writes as well as songs written solely by Alecia. She has had the privilege of writing with many songwriters in Nashville including Joe Forte, Greg Friia (Bonnie Tyler, Richie McDonald, Eric Paslay), Emilee Allan, Mary Danna (Trisha Yearwood, Trace Adkins, Carolyn Dawn Johnson), and Forest Miller (Chasin' Crazy). The majority of the album was produced by the talented Daniel Dennis at Prime Cut Studio in Nashville, single Without June produced in Alberta by Heath West, Daniel Dennis, and Alecia Aichelle, and the 4 bonus tracks produced by Matty McKay in Alberta in 2013. Golden is a compilation of old and new, a musical narrative of Alecia's journey, that allows you to Take The Ride on the back roads to her Country Life.
Born and raised in Kelowna, BC, Alecia's love for music and performance began early on as she grew up singing in her church and excelled in Royal Conservatory classical piano. She also enjoyed acting and spent a great deal of time performing in school musicals and community performances. Alecia was introduced to country music at a young age by her parents, who have been devoted supporters of Alecia's musical goals and dreams. Some of her first musical influences include Martina McBride, Faith Hill, Shania, Dolly, Paul Brandt, and CCR, to name a few. Reflecting on her country music roots Alecia says, "Country was definitely not considered "cool" where I grew up, but it was my passion, a part of me, and I really didn't care that the other kids teased me about it. It has always been who I am and I have always stuck to my guns." When not practicing music and performing Alecia would spend much of her spare time with her dog and other pets as well as her neighbours horses, all the while dreaming, singing, and writing songs.
Alecia now calls Red Deer County, Alberta home since moving to attend the Red Deer College Music Program where she achieved a Music Diploma in Voice and Piano Performance. Shortly before attending college a large tumour was found on Alecia's thyroid gland and a necessary surgery was performed. This resulted in, what the experts said, "permanent paralysis of Alecia's right vocal cord due to complications in surgery". Informed she would never sing again, Alecia's strong faith and belief for a miracle carried her through. After six months Alecia's voice was fully restored and deemed nothing short of a miracle! Alecia aspires to encourage others with her story of hope and faith, "nothing is impossible if you just believe".
Alecia currently performs throughout Alberta both with her band and as a solo act, as well as spends some time in Nashville songwriting, recording, and performing. One of Alecia's dreams came true when she was invited to perform a 'Writer's In The Round' show with three other songwriters at the legendary Bluebird Café Nashville in November 2014. Alecia has since returned to Nashville to record her first full length album Golden which was released spring of 2016! Alecia's passion for songwriting and performing is evident, as is her passion for helping others. A long time supporter of World Vision, Alecia also takes every opportunity to perform benefit concerts for her local SPCA, extended care facilities, and various fundraising events. Alecia feels her purpose is to use her gift of music to make a positive difference in the world and help make Everybody Smile.
"Live life to the fullest, be true to yourself, Dance In The Rain and love with your whole heart, because you never know when Your Last Chance will be. Live now and cherish every moment." ~Alecia~