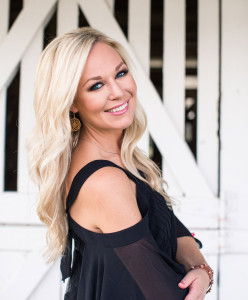 Latest Buzz
The past few years has been pivotal in Alecia Aichelle's career with the release of 12 singles, many significant shows, and a sponsor car from Scott Subaru of Red Deer for her Western Canadian Hooked On Us radio tour which included visiting over 40 radio stations. With an album and 12 singles released, Alecia Aichelle is becoming known for her heartfelt lyrics combined with captivating piano melodies as well as dynamic vocals and guitar. Performance highlights include Nashville's legendary Bluebird Café, Nashville writer's rounds, Canadian Finals Rodeo Mainstage, Ponoka Stampede Big Top Dance Hall and the brand new Ponoka Stampede Showdown Dance Hall, and opening for Aaron Pritchett, Aaron Goodvin, and The Bellamy Brothers. Alecia was living in Nashville prior to the pandemic and is currently living back in Canada. She is very busy building her career with shows all over Alberta and Western Canada and frequent trips back to Nashville, TN.
Alecia's latest singles Household and Let Freedom Reign were recorded at MCC Recording Studio in Calgary and produced by Johnny Gasparic and Alecia Aichelle. Her previous album and singles, including Get Lost, were recorded in Nashville at Prime Cut Studio with producer Daniel Dennis.
Music & Miracle
"I sing for joy at the works of Your hands" Psalm 92:4
Alecia has always known that country music was her destined path. Informed she would never sing again after complications with throat surgery, Alecia illustrated true resilience and fought all odds for a miraculous recovery. A large tumor was found on Alecia's thyroid gland and a necessary surgery was performed which resulted in, what the experts said, "permanent paralysis of Alecia's right vocal cord due to complications in surgery". Told that she would never sing again, Alecia's strong faith and belief for a miracle carried her through. After six months Alecia's voice was fully restored and deemed nothing short of a miracle! Alecia aspires to encourage others with her story of hope and faith, "nothing is impossible if you believe". Her perseverance, combined with an intense love for music, is what fuels Alecia's passion as an artist. Alecia's hard work and determination are evident as she continues to showcase her abilities as a songwriter and performer both with her full band and solo shows.
Alecia released her debut full length album, Golden, in spring of 2016 and has since released numerous singles to Canadian country radio and all online platforms.  Her first Christmas single, One Wish, was released in December 2019. A sentimental song, One Wish came from a very honest place, reflecting on her past Christmas memories. Prior to that in August 2019 she released Girls Night Out, a fun, flirty, female anthem. In April 2019 Alecia released You Rescued Me, dedicated to the memory of her French bulldog Hank, with proceeds donated to Paws and Claws Animal Rescue Foundation in Red Deer, AB. She also released her You Rescued Me music video on May 20, 2019 National Rescue Dog Day which features photos of over 100 rescue dogs sent in by fans and friends, and photos in memory of her heart dog Hank. On June 18, 2018 National Go Fishing Day Alecia released Hooked On Us to kick off the summer fishing season! Alecia was excited and honored to be sponsored by Scott Subaru of Red Deer with a 2018 Impreza Hatchback for her Hooked On Us summer radio tour throughout Western Canada. Prior to these digital singles Alecia released two other digital singles, Doin' Here and Get Gone, and three singles from her Golden album: Without June, Country Life, and What It Wasn't.
Born & Raised
Born and raised in Kelowna, BC, Alecia's love for music and performance began early on as she grew up singing in her church and excelled in Royal Conservatory classical piano. She also enjoyed acting and spent a great deal of time performing in school musicals and community performances. Alecia was introduced to country music at a young age by her parents, who have been devoted supporters of Alecia's musical goals and dreams. Some of her first musical influences include Martina McBride, Faith Hill, Shania, Dolly, Patsy Cline, Carolyn Dawn Johnson, Terri Clark, Paul Brandt, CCR, and Elvis, to name a few. Reflecting on her country music roots Alecia says, "Country was definitely not considered cool where I grew up, but it was my passion, a part of me, and I really didn't care that the other kids teased me about it. It has always been who I am and I have always stuck to my guns." When not practicing music and performing in her growing up years Alecia would spend her spare time with her dog and other pets as well as her neighbors horses, all the while dreaming, singing, and writing songs.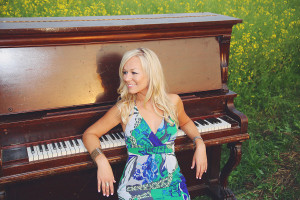 Alecia moved to Alberta to attend the Red Deer College Music Program where she achieved a Music Diploma in Voice and Piano Performance. She stayed in Alberta after college and spent time building her career. Alecia calls both Red Deer AB and Nashville TN home, splitting her time between the two places. She performs throughout Alberta both with her band and as a solo act, and has been songwriting, performing and recording in Nashville. Alecia's passion for songwriting and performing is evident, as is her passion for helping others. A long time supporter of World Vision, Alecia also takes every opportunity to perform benefit concerts for animal rescues, extended care facilities for the elderly, and various fundraising events. She also teaches music lessons part-time and feels very blessed to have so many amazing students. Alecia feels her purpose is to use her gift of music to make a positive difference in the world. She hopes her songs and stories touch people and inspire them to dream big, spread kindness, and love with their whole hearts.